If you currently own a vehicle, then you probably have been given some advice regarding how often you should have your oil changed. The old rule of thumb was to get your oil switched over once every 3,000 miles or so. This was a very widely accepted suggestion. Times have changed and this information is slightly outdated. Of course, there are vehicles that require an oil change this frequently. There are also vehicles that can go as long as 10,000 miles before needing to be changed. This probably only creates a lot more questions for you. If you are wondering how often do you really need to change your oil, let's take a closer look at some of the facts.
Frequency
There was a time when people believed that changing your oil more frequently would protect your vehicle more. Oil has changed over the years and this has allowed for looser tolerances. There are also benefits to leaving a good quality oil in your engine and letting it do its job. There are vehicles by certain manufacturers that boast long wait times for oil changes. Toyota has a couple vehicles that can go as long as 15,000 miles between changes. The honest truth is that the frequency of an oil change has a lot to do with the type of oil that you use, the type of oil filter that you use and the type of driving conditions that your vehicle encounters on the road. It's best to follow the recommendations that have been set by your manufacturer.
Easy Maintenance
Some manufacturers are trying to create vehicles that make maintenance an easy thing to keep up with. Oil monitors will alert you when your vehicle is in need of an oil change. These alerts are based off of information regarding the speeds that your vehicle has traveled at, the temperature of your engine, the conditions of the climate around you and the number of cold starts that your engine has taken on. If you don't feel comfortable waiting for your vehicle to let you know about an oil change, you have the option to schedule your own routine maintenance. Taking some time now to have routine maintenance done will only help protect your vehicle down the road.
Wasting Time and Money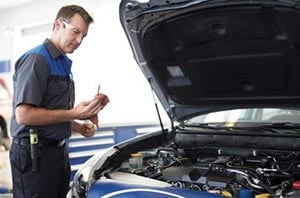 Changing your oil every 3,000 miles is basically just a waste of time and money. Another thing to consider is that the environment and oil industry will see some damage if you are frequently changing your oil without a real need for it. Old oil needs to be recycled and disposed of. New oil has to come from somewhere. Your recommended time from your manufacturer is the most trustworthy information. After all, why would a manufacturer want you to have oil changes done too frequently? This would only cause harm to your engine over a very short amount of time. This could result in more repairs that would be paid for by the manufacturer under your vehicle's warranty coverage. This isn't something they want to take on if they don't have to.
When it comes to changing your oil there are different things to consider. Don't automatically assume that your vehicle and everyone else's vehicle will follow the same rules. Three-thousand miles for one vehicle doesn't mean another vehicle is the same. Stop down to Reliable Subaru to get more information on your vehicle's oil changing needs. Don't listen to quick-lube oil change locations or other fly-by-night mechanic shops. Our service center has the precise information that will protect your vehicle moving forward.