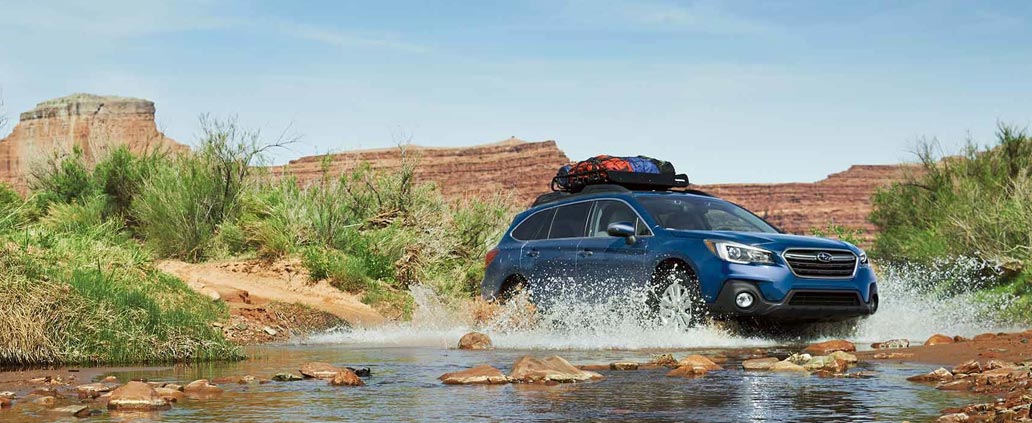 The Adventurous Subaru
Subaru is a Top Adventure Brand for several reasons, one of which is the fact that Subaru is a well-made, spacious vehicle with a quiet and smooth ride. An impressive 97% of Subaru vehicles that were sold in the last ten years remain on the road today. Not only is it reliable, but the Subaru is safe. Every model of Subaru is an Insurance Institute for Highway Safety (IIHS) top winner. Also, with all the trims in its lineup offering standard all-wheel drive, Subaru provides drivers who venture off the road much confidence.
Subaru's popularity as an adventure vehicle comes from the numerous options from which to select and the conveniences inside the different models. For instance, the Ascent, Crosstrak, Outback and even the compact crossover Forester have spacious interiors with quality materials. Also, fuel economy is good. The four-cylinder Subaru gets 25/32 city/highway miles per gallon. The six-cylinder has 20/27 mpg city/highway.
Ascent
With a turbocharged four-cylinder and all-wheel drive, this midsize SUV seats up to eight passengers and allows easy access to the roomy third row. There is a 6.5 multi-media touch screen with AppleCarPlay and Android Auto. A tri-zone automatic climate control accommodates all the passengers. Also, there are numerous cupholders and 4USB ports available. The Ascent comes in four trims: Basic, Premium, Limited and Touring.
Crosstrak
Having the ground clearance of 8.7 inches, the Crosstrak is a great off-road vehicle. It also has much passenger space. With the rear seat folded down, there are 55.3 cubic feet of space. The Crosstrak has a 152 hp turbocharged 2.0 cylinder six-speed manual transmission. (An automatic transmission is also available.) The Crosstrak gets good mileage: 23/29 mpg and 27/33 mpg with automatic transmission.
Outback
This roomy midsize SUV affords accessible entrance and exit. The backseat of the is spacious, as well. Visibility is excellent in this wagon and crossover blend that offers six different trims. This SUV has 175 horsepower with a 3.6 liter four or six-cylinder engine, and it has a continuously variable transmission and all-wheel drive. The four-cylinder gets 25/32 mpg city/highway; the six-cylinder has 20/27 mpg city/highway.
Forester
Consumer Reports rates the redesigned Forester highly with its smooth ride, clear menus on the touch screen and its eyesight system that alerts the distracted or sleepy driver. The transmission is redefined, and there is quicker steering. The Forester has a new design, and it seats five passengers comfortably in a roomy interior made of quality materials. The Forester has six cubic feet more than other trims, and it gets good gas mileage: 26/33 mpg.