Car brands are known for different things. If you're considering a Subaru, you'll get a vehicle that is safe, reliable, comfortable, and powerful. Subaru is an award-winning brand when it comes to safety and performance. It is the first company to offer intuitive all-wheel drive on a sedan, and its safety amenities are some of the most highly rated. If you're considering a new Forester, Legacy, Outback, or any other Subaru model, this is what you'll get.
Award-Winning Safety Features
There are certain things that consumers look for in a car. Safety features are among the most important. This is especially true for advanced driver-assist amenities that help prevent accidents. Fortunately, Subaru is one of the leading automakers in the world for safety. Subaru features standard safety amenities like an advanced airbag system and a rigid body design. But what distinguishes it from its peers is an innovative EyeSight package.
Studies show that occupants riding in vehicles equipped with EyeSight suffer 85 percent fewer injuries than vehicles that don't. With this technology, you'll get cruise control, forward collision warning with automatic emergency braking, lane departure warning, and more. Along with keeping you and your passengers safe in case of an accident, having this technology raises the resale value of your car.
Advanced All-Wheel Drive For Adventures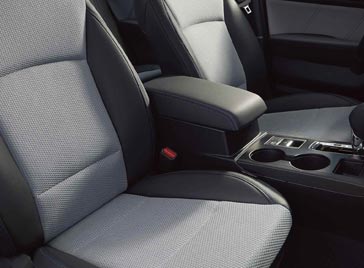 Another feature that sets Subaru apart is symmetrical all-wheel drive. This all-wheel-drive configuration is standard on most models. Unlike conventional drivetrains, this all-wheel-drive layout responds quickly to changing road conditions. Regardless of whether you're tackling snow, sleet, or dirt roads, the all-wheel-drive system delivers power to the wheels that need it most. It also features dynamic torque vectoring to help your Subaru remain balanced and in control. Along with offering impressive stability, the all-wheel-drive system is paired with Subaru high-tech Boxer engine. Power and fuel efficiency are highlights of this dynamic duo.
Premium Comfort Keeps you Happy on the Road
Inside, Subaru vehicles are comfortable, well-equipped, and spacious. The amenities you get are largely determined by the trim level that you choose. Even the base trims give you a good value for your investment. Standard technology includes a quality infotainment system with Subaru own Starlink multimedia system. On an eight-inch screen, you'll get Android Auto, Apple CarPlay, and Pandora. Other amenities such as voice-activated technology and navigation are available. Other coveted features you'll find in a new Subaru include heated seats and a sunroof. Both features are some of the most desirable in a new vehicle, say researchers at Consumer Reports. Exceptional cargo space and integrated roof rails offer plenty of room for transporting gear and equipment.
Performance and Handling
With a car that offers the most advanced all-wheel-drive system, you'd probably guess that it also has notable power features, too. This is certainly the case with Subaru, which puts a distinct Boxer engine in its vehicles. This engine is designed to deliver a perfect balance of power and fuel efficiency. In fact, the Boxer engine makes the 2019 Subaru Outback the most fuel-efficient vehicle in its class. The engine is paired with a continuously variable automatic transmission.
If you're considering a Subaru, top safety, technology, comfort, and performance are what you'll get. While each Subaru model has a distinct appearance and personality, they share some impressive commonalities too. Whether you want to try out a new Impreza, Outback, Legacy or another Subaru model, don't hesitate to let us know.