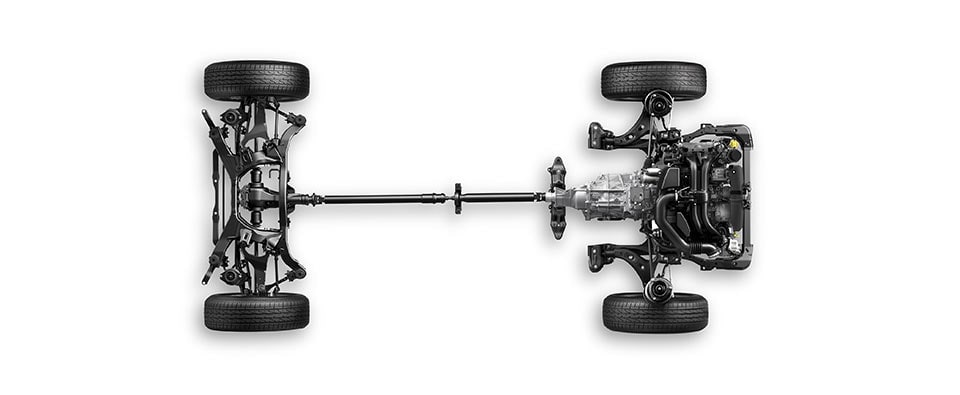 Subaru's All-Wheel Drive Philosophy
All-wheel drive isn't just for "bad weather." Balancing and power distribution to your wheels is something that may be more important when it's raining or snowing. Still, it's also essential during tight curves and other unforeseeable road conditions. Subaru takes the innovation of its symmetrical all-wheel drive so seriously that they offer it standard on a host of vehicles: the Legacy, Crosstrek, and Forester, to name just a few. So how exactly does Subaru's version of all-wheel drive give you more powerful traction and control?
How Does Subaru AWD Work?
Subaru's award-winning symmetrical all-wheel drive combines design with good old-fashioned all-wheel drive know-how to give you the ideal physical construction of your vehicle. They position the engine in-line with your drivetrain to provide you with a flawless transfer of power to all four wheels. Every single Subaru model except the BRZ gets this treatment (and it will be added to the AWD lineup soon).
Power and traction coincide together to give your Subaru vehicle an effortless feel on the road, even if it's icy or raining. Subaru's technology also works alongside other technologies on your car, such as your safety suite, to ensure that your AWD never stops giving you its all. Brake force distribution, engine position, and tire selection combine forces on all Subaru vehicles to provide you with the perfect AWD configuration. Only Subaru could have done AWD just like this.
Learn More About Subaru AWD
Subaru continues to refine its AWD systems year after year. Their award-winning designers know that AWD isn't just for snowy days. By designing the entire vehicle around their AWD system, they ensure that you are going to be in control of your car at all times. When the road gets murky or the day gets colder, Subaru AWD kicks into action and proves why it's an award-winning configuration.
Please contact us today to learn more about Subaru's AWD systems. Our team is also open for a fun test drive of any Subaru model! It's only by getting out there on the open road and feeling the power of Symmetrical AWD for yourself that you will see why Subaru is a pioneer in more modern AWD technologies. There's nothing simple about Subaru's AWD design, but it's simple to operate
.
You don't have to activate it or do anything to make it work. It's simply out there on the road with you every day, keeping you safer and more in control.