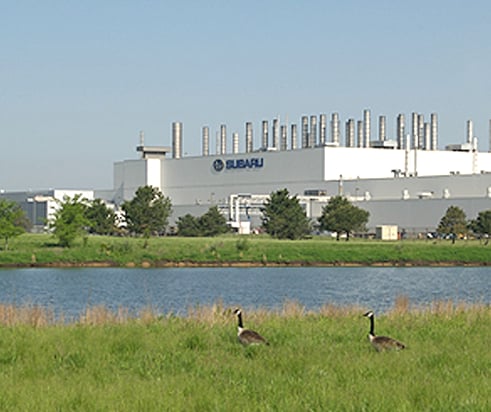 Walking the grounds of Subaru of Indiana Automotive (SIA) in Lafayette, Indiana, you'd be hard pressed to find stereotypical factory sights and smells. There are no billowing plumes or disturbing odors normally associated with the industry.
 However, you would have to be careful not to disturb the wildlife. Deer, coyotes, beavers, blue herons, Canada geese, rabbits, squirrels, meadowlarks, ducks and other animals live here in peaceful coexistence with SIA. In fact, part of the SIA property has been designated a wildlife habitat.
Big House on the Prairie - No Landfill Waste
SIA's facilities may seem incongruous in the middle of the Indiana prairie's cornfields. But the impetus behind the company's environmental initiatives is well in keeping with the conservation efforts that are part of Indiana's rural heritage. Farmers in this area learned long ago that mistreatment of the land leads to disaster. Concern about and caring for the area's ecological systems are well within the ken of all who live here.
Application of this attitude to manufacturing and using ISO 14001 guidelines for environmental management have resulted in zero landfill status as well as a number of environmental firsts by SIA. (Read more about Subaru and ISO 14001 in the Spring 2005 issue of Drive at www.drivesubaru.com
How sweeping are SIA's efforts? Consider this: When you carry out the trash on the next collection day, you're sending more to landfills than does the SIA plant in Lafayette. That is, nothing from its manufacturing efforts goes into a landfill. It's all reused and recycled.
A plant tour reveals the extent to which SIA associates go to prevent waste. Strategically placed boxes, bins, barrels and buckets collect the metal, plastic, paper, wood, glass and other materials that might have ended up in a landfill a few years ago. Yellow tape defines placement for collection containers, and recycling stations can be found around the plant.
Altogether, 97 percent of excess/leftover steel, plastic, wood, paper, glass and other materials goes to recycling outlets. The remaining 3 percent is shipped to the city of Indianapolis and incinerated to help generate steam.
Here are just a couple of the recycling processes and procedures followed by SIA:
SIA's wheel supplier uses brass lug nuts to hold wheels in place during shipping. Previously, these were thrown away - 33,000 pounds of brass per year. They are now reused until they're no longer serviceable, then they're recycled. This is an example of recycling helping to reduce costs rather than raising them.
Paint sludge formerly thrown away is dried to a powder, then shipped to a plastics manufacturer that mixes the dried sludge with other plastic compounds. The manufacturer's end products are useful devices such as parking-lot bumpers and guardrail safety blocks that absorb impact when struck by a vehicle.
Solvents used in the painting process are cleaned and recovered through SIA's on-site recovery system. The paint shop then reuses the solvent.
The North American Environment Committee
Every year, SIA representatives meet in Lafayette with representatives from Fuji Heavy Industries and four affiliated North American companies to pursue global environmental conservation efforts. Each company reports its activities, and together they discuss future plans.
Committee members recognize that, although much has been accomplished, the work of environmental conservation is never done.