In-car entertainment technology has dramatically improved over the years. It wasn't all that many years ago that most people were just happy that their car had a working AM/FM radio, and now suddenly drivers can take advantage of advanced systems like the Subaru STARLINK for music, entertainment, navigation and more. In this sense, drivers in the market for a sophisticated and stylish hybrid crossover will surely be happy to know that the Subaru STARLINK system comes standard on all new 2018 Subaru Crosstek Hybrid vehicles. In this way, you can ensure you remain connected no matter whether you're heading off-road or down the highway in your snazzy new Subaru.
What are the Major Features of Subaru STARLINK?
The Subaru STARLINK system is designed to make your daily drive easier and more enjoyable by allowing you to access many of your favorite apps through your vehicle's touchscreen. With STARLINK Multimedia, you can connect your Subaru to a wide range of music, podcasts, news, sports, etc. The system also allows you to access navigation features that make it easier than ever to get exactly where you need to be while also avoiding traffic, accidents and other potential delays.
Almost all of your favorite music, navigation and travel apps are compatible with the STARLINK system so you can feel at home whenever you're on the road. This includes popular apps like Pandora, SiriusXM, iHeartRadio, Yelp, Magellan and TomTom. Better still, drivers can connect their smartphones to their in-car STARLINK system via AndroidAuto, Apple CarPlay or even Bluetooth. The system and most app features can also be controlled using voice commands in addition to the touch screen, which ensures you can keep your hands on the wheel and your eyes focused on the road as they should be.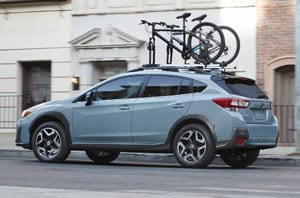 Does STARLINK include Remote Engine Start?
As part of STARLINK's advanced features, drivers can take advantage of Remote Engine Start with Climate Control. This system allows you to start your vehicle and turn the heat on directly from your smartphone, which means you can utilize it from anywhere in the world. You can also use SMARTLINK Concierge as your own personal assistant to help you get driving directions, schedule service appointments and even make reservations for hotels and restaurants.
Safety Improvements with the Safety Plus Package
The STARLINK Safety Plus package also gives drivers the latest in advanced safety technology, such as Advanced Automatic Collision Notification, Enhanced Roadside Assistance and SOS Emergency Assistance. As well, this system provides you with vehicle health reports, maintenance notifications and diagnostic alerts to help you ensure your vehicle is running in good condition.
The Subaru STARLINK system is completely changing in-car entertainment and connectivity for the better. In this sense, it is something that you really need to check out in person to fully appreciate. Therefore, don't hesitate to stop by and see us at Reliable Subaru where our sales associates would be happy to let you take the Crosstek for a spin so you can see the STARLINK system in action for yourself.