Reliable Subaru is elated to be the premier source for the Subaru Impreza in Missouri. Reliable Subaru is a Springfield Subaru dealership and carries a huge inventory of New Subaru Impreza and top quality, high value used Subaru Imprezas and other cars & trucks.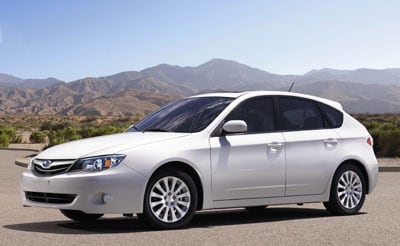 When buyers compare the Subaru Impreza to other makes like the Mazda3, Volkswagen Jetta, and Honda Civic, the 2012 Subaru Impreza shines as the most fun-to-drive. Starting with the 2011 Subaru Impreza, owners found this affordable sedan's crisp handling and lively acceleration to be reason enough to choose.
You'll be pleased by the Subaru Impreza affordable small car when you shop Reliable Subaru in Springfield
With standard all-wheel drive and a sport-performance engine option, the 2011 Subaru Impreza has more pep than ever before. Its spacious cargo areas, comfortable interiors, and long list of safety features also make the 2011 Impreza a solid pick in the affordable small car segment. All of these factors make it tough for vehicles like the Mazda3, Volkswagen Jetta, and Honda Civic to beat the Impreza, and with a low MSRP of $17,495, New Car Test Drive states that consumers can get "a lot of car for the money." Along with a zippy new engine option and notable vehicle design, the 2011 Subaru Impreza is also an IIHS "Top Safety Pick," earning the highest possible score in frontal-offset and side-impact collision tests. Visit our Springfield Subaru dealership to check out the new line of 2011 Subaru Impreza cars in stunning colors like Obsidian Black Pearl, Lighting Red, Spark Silver Metallic, and Paprika Red Pearl. You are also welcome to view Reliable Subaru's great selection of used Subaru cars, including previous models of the Subaru Impreza.
With several trim options and two body style choices, the 2011 Subaru Impreza comes in a wide range of styles. The Impreza is available as either a hatchback or sedan, and consumers can choose between eight different trim levels. Primary trims include the base 2.5i, the Outback Sport, and the WRX, with additional premium and limited trims built on the 2.5i and WRX platforms. The 2011 Impreza 2.5i trims have a number of impressive features including: full power accessories, keyless entry, Bluetooth connectivity, an auxiliary audio jack, and a USB port. They can also be outfitted with optional features and accessories like an audio subwoofer, satellite radio, heated front seats and mirrors, and a unique grille insert. For complete details about all available 2.5i trims and features, please visit our Springfield Subaru car dealership today!
Reliable Subaru also offers the high-performance Impreza Outback Sport. This specific trim is only available as a hatchback and it has many of the same features as the Impreza 2.5i Premium trim. Still, the Outback Sport showcases its own distinctive flare with special interior upholstery and unique exterior trim designs. Springfield car shoppers will also enjoy a raised suspension, which gives the car greater ground clearance. In addition, this Outback Sport comes standard with an All Weather Package that includes a windshield wiper de-icer and heated front seats. The Impreza 2.5i and Outback Sport trims all come standard with a 2.5-liter horizontally opposed four-cylinder engine that pumps out 170 horsepower and 170 pound-feet of torque.
The Impreza WRX is another available group of trims that you can find at Reliable Subaru. WRX trims give consumers a turbocharged option, combining a fierce powertrain with Subaru's signature comfy interiors and classic exterior styling. Equipped with a high-power turbocharged engine and aggressively tuned suspension, the 2011 WRX turns the compact Impreza into a performance champion. Optional and standard features available on various trims of the Subaru WRX include: a turbo boost gauge, dash-mounted navigation system, sport seats, and Brembo breaks. Test-drive the new WRX or any trim from the 2011 Subaru Impreza lineup at Reliable Subaru. As one of the leading Springfield Subaru dealers in the area, we are proud to offer a large selection of new and used Subaru cars and SUVs; stop by today!
Here's the reasons why the Subaru Impreza ought to be your favored affordable small car in gorgeous Missouri
[Dealership Name] offers the Subaru Impreza, a 4-door sedan which seats 5 people satisfactorily. The Impreza weighs 3,053 pounds, is 180.3 inches long, 68.5 inches wide, 58.1 inches high, and the Subaru Impreza's turning radius is 17.4 feet. astonishingly comfortable for its class, the Impreza has 40.3 inches of headroom in the front, as well as 43.5 inches of legroom. In the Impreza's back seat, there are 37.6 inches of headroom and 33.5 inches of legroom. Need to bring a lot of luggage on your next trip? The Impreza trunk holds up to 11.3 cubic feet of your stuff. So, take a break and indulge!
Standard Subaru safety features included in the Impreza are: traction control, anti-lock brakes, side airbags, driver airbags, side-impact bars, seat-belt pre-tensioners, and passenger airbags. With all of these features, the Subaru Impreza is always highly rated by the IIHS and NHTSA.
The Impreza also has an abundance of comfort and convenience features including: power steering, remote locks, power windows, power mirrors, climate control, cruise control, air conditioning, power seats, an adjustable steering wheel, and more! Especially convenient are the available hands-free phone and navigation systems. Test drive the Subaru Impreza in Springfield at [Dealership Name].
Like all Subaru cars & trucks, road handling and performance are top priorities for the Impreza. Passing horsepower in the base Impreza is 170hp @ 6,000RPM, and it produces excellent torque - 170 lb.-ft. @ 4,400RPM foot pounds/rpm. The Impreza accelerates rapidly from 0 to 60 mph in just 8.3 seconds. If you want to go fast, the Impreza has a top speed of 109 miles per hour. Despite this excellent power train output, the Subaru Impreza's fuel economy is rated at 20 miles per gallon in the city and 27 highway miles per gallon. With a fuel tank capacity of 16.9 gallons, the Impreza cruising range is well above average, truly making it a performance car!
The Subaru manufacturer's warranty covers the Impreza for manufacturing defects and has a 3 Years / 36,000 miles Subaru warranty. Subaru has worked for years to minimize its environmental impact, and the Impreza's carbon footprint is rated very low. Not surprisingly, with all of these Impreza advantages, this great Subaru sedan retains a high percentage of its value at 3 years and 36,000 miles, which makes the Subaru Impreza a great used buy!
When seeking a safe, economical, sporty and stylish sedan, Springfield buyers should head to the Subaru dealer of choice, Reliable Subaru at 438 Ingram Mill Rd in Springfield MO.
Subaru Impreza service information for Springfield
Subaru Impreza owners and lessees in Springfield have found that Reliable Subaru at 438 Ingram Mill Rd in [Dealership City] is the very best choice for Impreza warranty work, regular maintenance & inspections, and mechanical repairs. At Reliable Subaru, Certified Subaru Technicians trained in the very latest diagnostic and corrective techniques work for only one thing - your complete satisfaction. Whether it's time for your Subaru to have an oil change or tire rotation, or if you need regular Impreza Scheduled Maintenance, Reliable Subaru is your first choice. Wheel alignments are another specialty of our Certified Subaru Techs, and here at 438 Ingram Mill Rd, we are the smartest choice in Springfield for quick, courteous, and professional Subaru Service of all kinds.
If you'd like to make an appointment to have your Impreza serviced, click the link or just give us a call. See you soon.