Subaru Transmission Repair and Maintenance in Springfield, MO
Regardless of whether your Subaru is a family vehicle, a commuter car, or your weekend adventure vehicle, you understandably want to maintain it properly so that you can maximize its life. The automaker has created a suggested maintenance schedule for your vehicle, and one of the more essential maintenance tasks involves the transmission. Your Subaru could not function correctly without a quality transmission in place, and this is because the transmission controls and moderates the engine's power and torque capabilities. The transmission's components can take a beating through the intensity of heat and friction produced while the vehicle is running. With transmission maintenance work completed by our Subaru service center team regularly, the signs of wear and tear can be eliminated or reduced substantially.
When Should I Schedule Transmission Service for My Subaru?
As crucial as transmission maintenance work is for the overall condition of your Subaru, the good news is that this service can be completed infrequently. For example, flushing the transmission or replacing the fluid is usually only necessary after you have put approximately 30,000 to 45,000 miles on your car or in two to three-year intervals. Remember that this is a general guideline, and you should always follow the specific suggestions for your vehicle that are outlined in the owner's manual.
What Is the Difference Between Flushing the Transmission and Replacing the Fluid?

Because the two primary maintenance services for a Subaru's transmission involve flushing the system and replacing the fluid, the question of which one to schedule for your car may come to mind. These services include replacing the transmission filter, which can quickly become saturated with so much dirt that it is ineffective at its job. They also both involve replacing the transmission fluid in the system's pan. The transmission fluid in this component only accounts for roughly half of the total transmission fluid in the vehicle. Changing the fluid only involves changing the pan's fluid, but flushing the system involves replacing all fluid in each relevant component. You may believe that flushing the system is always the best move if you are serious about car maintenance, but this significant service is not always necessary. Subaru owners who regularly follow the automaker's service schedule may be able to enjoy great results from a basic fluid and filter change. The condition of the vehicle's transmission fluid will be a strong indicator of the type of service that is needed. When you bring your Subaru to our service center, we can advise you about the best steps to take.
How Will I Know If My Subaru's Transmission Needs Repair Work?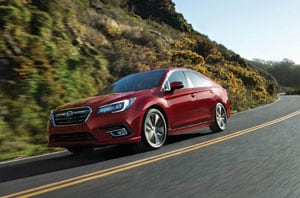 Because of how essential the transmission is to the function of your Subaru, serious damage and undeniable engine trouble that will result in your quick determination that diagnostics and repair work are needed. Minor transmission issues may require closer observation. However, catching small issues before they evolve into huge issues is beneficial. If you see leaking transmission fluid or a "service engine" light on your dashboard, service is needed. A burning odor or rugged movement on the road when shifting gears are also signs of potential damage. For diagnostics and repair work or for regular maintenance, reach out to our Subaru auto service team for an appointment.
Service Hours
Monday

07:00am - 06:00pm

Tuesday

07:00am - 06:00pm

Wednesday

07:00am - 06:00pm

Thursday

07:00am - 06:00pm

Friday

07:00am - 06:00pm

Saturday

08:00am - 03:00pm

Sunday

Closed