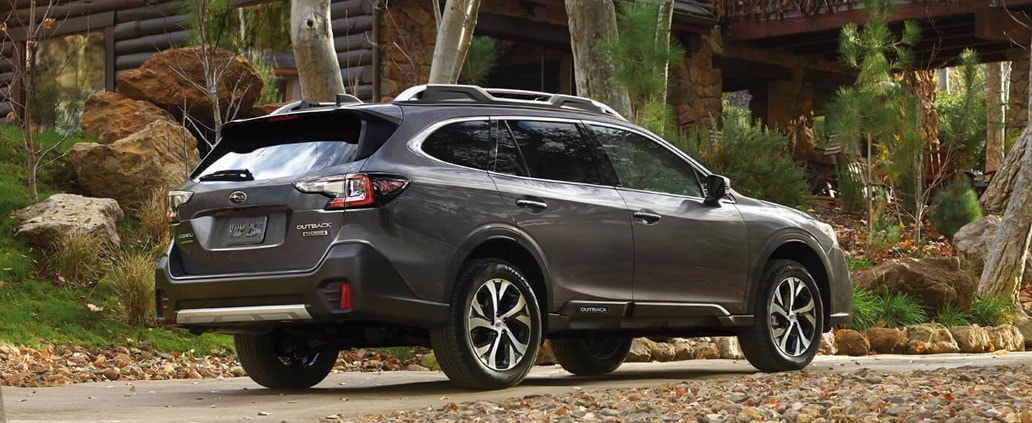 Built for adventurous consumers, the Subaru Outback is a robust crossover SUV that's packed with patented mechanical technologies. Let's examine some of the vehicle's towing capabilities and other technologies that optimize handling.
Rated at 176 horsepower, the 2.5 L BOXER engine block is standard under the hood of the Outback. This direct-injected horizontally opposed powertrain cranks out 182 pound-feet of torque at 2,000 RPM. You can tow a 2,700-pound trailer with this entry-level engine block, including the Active Valve Control System, for optimum efficiency. A 2.4 L turbocharged engine block is available for this Subaru crossover SUV. Also displaying the BOXER badge, this four-cylinder propulsion system yields up to 260 hp and 277 lb-ft. The Dual Active Valve Control technology governs combustion in this high-level powertrain. You can tow up to 3,500 pounds with this signature turbo engine, which has an intercooler design to prevent overheating while towing a trailer. The Outback model also comes standard with a continuously variable transmission system that offers a good combination of automatic and manual shifting. In fact, the Lineartronic CVT includes the Manual Mode with eight different speeds. Some of these fixed gear ratios are optimized for towing and hauling. The Adaptive Control is intelligent enough to optimize the gearbox for handling trailers on the highway. Engineered to provide all-weather traction, the standard Symmetrical All-Wheel Drive is another mechanical hardware that enhances the vehicle's towing capabilities. By managing the powertrain, drivetrain, and transmission, the X-MODE keeps the Outback on course. This advanced driving mode helps you handle a trailer on curved roads and elevated ramps.
Additionally, the X-MODE works in tandem with the Vehicle Dynamics Control in some situations. The VDC measures and adjusts several critical parameters, like G-forces and yaw rates. Therefore, you can confidently tow a compatible trailer on hills and other types of sloped terrains. With additional assistance from the Active Torque Vectoring, this crossover SUV maintains its poise while pulling a trailer on the freeway. The ATV technology neutralizes the steering system and applies the braking system based on the vehicle's projected path. This innovative function also optimizes the turning radius of an attached trailer. The Outback has some active safety technologies that enhance towing. For example, the Sway Warning will come on if you don't steer the vehicle properly. This innovative driving aide is part of the Lane Departure Warning, which is particularly helpful on narrow lanes. The Sway Warning ensures that your trailer doesn't invade the space of other moving vehicles in adjacent lanes.
Contact our Subaru auto dealership to learn more about the Outback's towing capabilities and other technical specifications.